Your village, once peaceful and thriving, is now all but deserted and overrun by creatures from the nearby forest. Press any key to venture on….

With those simple words begins a harrowing, epic adventure to the limits of the universe.


Ragnarok was a rogue-like PC game produced from 1992 to 1995 by Norsehelm productions. It also had a European release called "Valhalla." Its bare-bones graphic interface was more than made up for by rich gameplay, vast amount of quest content, and classic rogue-like mechanics that built on what previous games had done as well offering revolutionary ideas:


• Emergent Content: The definition of "emergent content" is that a player's decisions creates unique consequences, leading to a completely original experience. In Ragnarok, the levels were randomized with each new play through, in the tradition of rogue-like games. If you made a character, died, and then restarted, you would go to the same starting level as before, but its contents would be completely different. However, with Ragnarok the unique possibilities extended to much more than just level design.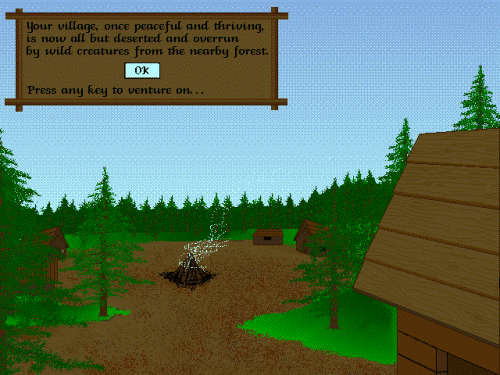 One of the genius points of the game was the tremendous capability you had to interact with the environment. In a bizarre but entertaining design mechanic, you could eat the bodies of slain monsters. Most of the time this did nothing; sometimes it produced a health penalty or death (stay away from the cockatrice!); and sometimes it gave you fantastic benefits, such as the ability to phase, or a sixth sense to detect hidden monsters outside of your line of sight. If you were enveloped by the Weird Fume, you would grow an extra finger, up to 16 – which was a great benefit as it meant you could wear extra magical rings of protection, immunity, etc. You could charm other monsters and use them as allies, polymorph yourself into a monster to gain its strengths, master one class and then change to another, and much more.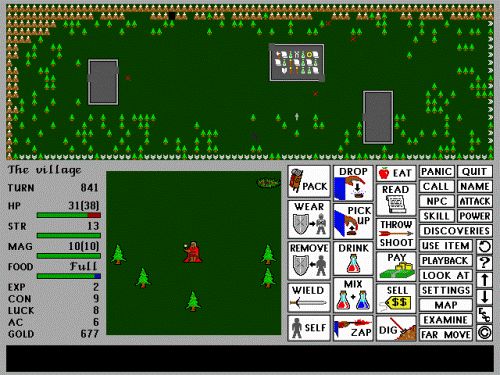 • "Meta-Death:" When your character died all your equipment was dropped on the spot. Although the level would be randomized on the next play through, the previous character's stuff would come through as a cache of supplies for your next adventure. But a Ghost would also be created – a hostile spirit of your slain adventurer that you had to fight in that general area. Multiple deaths in the same spot could create a "choke-point" of ghosts which would have to be avoided until you had leveled-up enough. So character death was more than just the end of the adventure – it was a persistent event that you had to deal with next time through the game.

• Vast amount of gameplay: You begin as a lowly level 1 Viking with the lofty goal of nothing less than saving the gods from extinction. You grow from a neophyte to a being of godly power, able to travel through entire worlds and dimensions – all of it built on the classic Nine Worlds of Norse Mythology. There are six quests to perform, all of which involve helping the gods to find critical items or weapons to use in the final battle. In the last section of the game you have to fight across the Rainbow Bridge to the final battle plain of Vigrid for the eponymous final battle.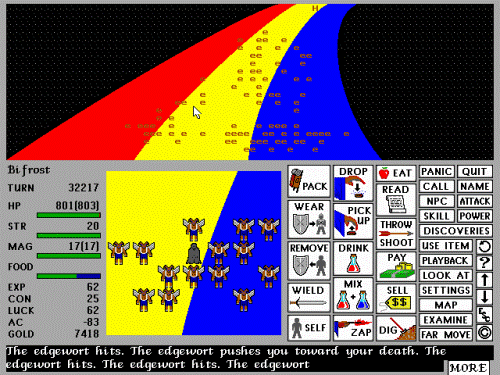 • Classic level of difficulty: Most games these days have removed the penalty for dying to the point where it's as trivial as returning to the previous auto-save checkpoint. Not so in Ragnarok. In the first version of the game, if your character died all of the saves for that character would be deleted as well. Players worked around this by making a separate back-up directory. In later versions of the game there were two options offered – Beginner, which kept the saves even if you died, and Expert, which did not.

There was also the issue of time. Each turn elapsed would bring you closer to the final battle. If you got to turn 5000, Odin himself would appear in the form of a Raven to give you quest hints; lesser monsters would also stop fighting you at that point to make it easier to get through the 6 quests. At this point the best hope for the play was to kind a rare Blue Cube that could bring you backwards in time, giving you more of a chance to finish the quests before the final battle. Woe to the player that used the Grey Cube by mistake, and was shifted forwards in time, closer to the Battle of Ragnarok.

What really made me think of this game again was reading some reviews of the upcoming dungeon hack Demon's Souls – a roguelike that allows you to see the last moments of other characters prior to their deaths. I'm glad to see that some of the concepts of Ragnarok, such as "meta-death" and a brutal level of difficult – are not dead and gone in today's HD world.


This edition of Games We Loved is contributed by our friend and gaming junkie Alexander Liss